Here are some of the bands I am currently playing with:

Color Of Sound is a duo project with Frank Southecorvo, saxophones and Bryan White, basses. Frank and Bryan have played in bands regularly since 2006. Since 2013, they have performed and recorded regularly with guitarist Tim Winter as the trio Up Jumped Three. A "back burner" idea for years, was to explore the textures of a bass and saxophone duo. They used the time away from performing due to the Covid 19 pandemic to write arrangements for this project. The album "Ever Forward" will be released July 1, 2021. Below are videos from a live performance at Citizen Vinyl in Asheville, NC (May, 2021). For more info and performance schedule visit the Color Of Sound jazz facebook page.
"Turnaround" performed at Citizen Vinyl in Asheville, NC
"A Smile For Tavis" performed at Citizen Vinyl in Asheville, NC
"Trite & Lovely" performed at Citizen Vinyl in Asheville, NC
"Stir Crazy Blues" performed at Citizen Vinyl in Asheville, NC
Up Jumped Three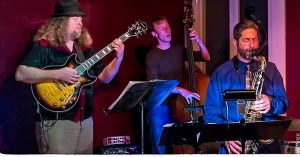 Up Jumped Three is a jazz trio featuring songs written by each of the members:
Bryan White — accoustic bass
Frank Southecorvo — saxophones
Tim Winter — electric guitar
We also play as "Up Jumped Three plus 1" with Bill Berg and others on drums
The songs are spontaneous and very accessible at the same time. Our third CD, self-titled "Up Jumped Three"  is coming out in March 2020!
visit them at reverb nation or on facebook
buy  all of Up Jumped Three CDs or Downloads at Bandcamp
Friendly Hollow Saxophone Quartet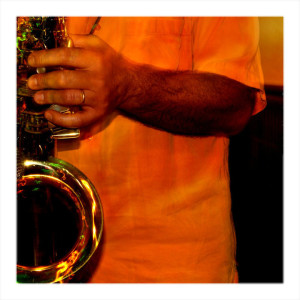 Friendly Hollow Saxophone Quartet plays jazz and classical music arranged for quartet (SATB). I also write original music for the quartet. We are available to perform concerts, weddings, festivals and private functions. The members are:
Jim Anthony – soprano sax
Sabrina Kumar – alto sax
Rhonda Wilson-Graham – tenor sax
Frank Southecorvo – baritone sax
Asheville Jazz Orchestra
The Asheville Jazz Orchestra is a 17 piece big band (18 with vocalist Wendy Jones) that performs monthly at the White Horse in Black Mountain, NC as well as concerts in the area. They are available to perform weddings, corporate parties and other functions. They play music of the classic big bands of Count Basie, Glenn Miller etc. as well as breaking new ground with charts written by several band members. The band is led by David Wilken who composes extensively for the band.
Visit the Asheville Jazz Orchestra 
Michael Jefry Stevens' Mountain Chamber Jazz Ensemble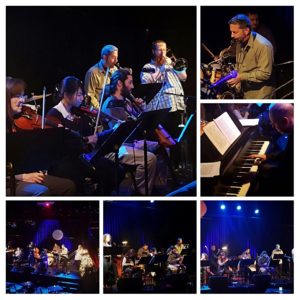 I have been playing with Michael Jefry Stevens large ensembles since 2014. The instrumentation and band members changes every month — concert to concert. It's really exciting to see arrangements evolve to fit the attributes of individual players!
For more info visit Mountain Chamber Jazz Ensemble website